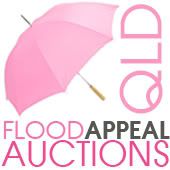 Following my post this morning, I have signed up to participate in the Flood Appeal Auction organised by Toni & Carli from
make it perfect
.
This is my first auction - Hilary the Hippo
Bio:
Hilary the Hippo loves to swim. Here she is with her goggles.
Hilary is handmade by me and she is an amigurumi and 100% wool
Hilary is 18cm tall and 15cm wide (from arm to arm), roughly 100gram
Everything is stitched in so no dangerous bits for little people to chew on
To bid for Hilary is easy - here is how the auction works:
1. Bidding will start at $5.00 (Australian).
2. Place a bid by leaving a comment on this blog post with your bid amount and email address. Please make sure that your bid is higher than the previous bidder.
3. Your bid should be in 50 cents increments.
4. This auction is open to everyone. I will pay for the postage for all Australian residents. If you are overseas, please contact me and I will calculate the postage for you. To give you an idea, up to 250grams to Hong Kong by air is approximately AU$8.40 and US is approximately AU$9.55.
5. The auction begins NOW and will END at midnight on Monday 24th January 2011.
6. At the close of the auction, I will contact the highest bidder who will then need to the winning amount directly into the
Premier's Flood Relief Appeal
. Please send me proof of payment via email at which time, I will post Hilary to you.
Thank you so much!! Happy bidding and good luck!!