Phew... busy couple of days... anyway... Just a quick note to marvel at the awesome goodness of people!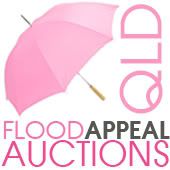 What an awesome end of the 2011 Australia Day!! The grand total from the flood appeal auctions came in last night!!!
Incredible efforts but none of this would have happened without Toni and Carli and their many crew behind the scene... Thank you ladies
Another thank you to Trisha who won the bid for Honey the Bear. Trisha donated an extra dollar so my grand total is actually $150! YAY!